Home Building Centre Supporting Local Contractors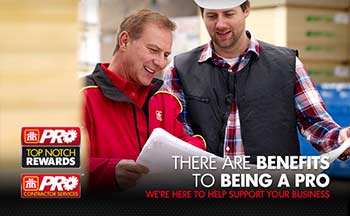 What kind of support can we provide professional contractors?
Home Building Centre provides,
Preferred Pricing
Preferred contractor pricing and special Home Building Centre Pro offers on the tools and products you need
Personalized Service
Our dedicated contractor sales staff delivers the Expert Advice you need to get the job done right – on time and on budget.
Job Site Delivery
With our flexible delivery schedule, you get what you need delivered when you need it.
Professional Name Brands
Home Building Centre supplies the best in the business with brands you can trust.
Home Plan Service
With our details building plans and comprehensive material lists, you can build the best for your client.
Material Take Offs
Home Building Centre can provide you with a comprehensive, accurate and project-specific material take-off. Bring your plans to us!

Ordering Options
Phone, fax or email your order in advance to the Home Building Centre Pro Desk to save time.
Package Pricing & Credit Services
Guaranteed design, price, quantities and quality of standard and modified Beaver Home or Cottage Material Packages. We give you credit for running a successful business. With flexible payment options, you can focus on the job at hand.
Other Home Building Centre Contractor Services
We provide more services to help local contractors build their business and provide professional services.
Professional Videos to Help You
Get stuck on something and need some professional information, especially with a new product? You have access to all of our Pro Videos on the video page.

View More
There are more services for the professional contractor on the Home Hardware website. View more here.